Jibom dan Anjing Pelacak Sisir Area Konser HITC di PIK 2, Polisi : Pastikan Berlangsung Aman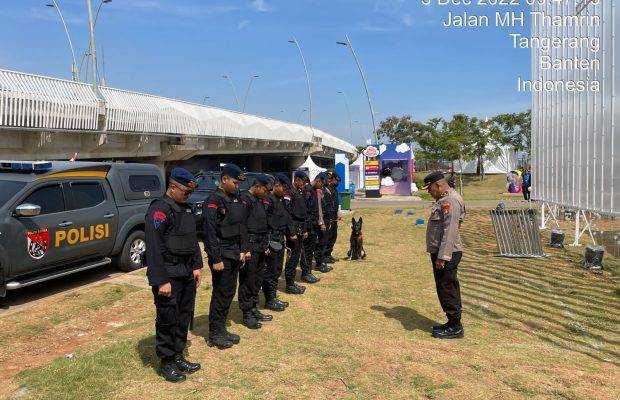 Jurnalline.com, – Kepolisan Polres Metro Tangerang Kota, Polda Metro Jaya memastikan tidak ada barang-barang yang berbahaya dan dilarang, melakukan penyisiran dan sterilisasi pengamanan konser Musik PIK 2, Kosambi Kabupaten Tangerang. Sabtu (3/12/2022).
Penyisiran dan sterilisasi dalam Pengamanan Head In The Clouds (HITC) Jakarta 2022 di Kawasan Community Park PIK 2 tersebut Polres Metro Tangerang Kota Libatkan Tim Jibom dan K9 Dit Samapta Polda Metro Jaya.
Kapolrestro Tangerang Kota, Kombes Pol Zain Dwi Nugroho mengatakan berdasarkan hasil penyisiran yang dilakukan oleh tim penjinak bom (jibom) dan anjing pelacak atau K9 tidak ditemukan barang-barang yang berbahaya atau benda yang mencurigakan.
"Pengamanan Konser Musik HITC, kami menerjunkan personel sebanyak 1.225 orang, untuk mengamankan konser yang rencana dihadiri 15.000 orang penonton dari luar dan dalam negeri" terang Zain.
Ia merinci penyisiran dan sterilisasi dilakukan personil meliputi: Lokasi parkir, pintu masuk lokasi, VVIP area, back stage, panggung/stage, lapangan penonton, food and beverage, lokasi tenant, hingga ruang operator dan crew.
"Penyisiran dan sterilisasi berjalan dengan aman dan terkendali tidak ditemukan benda yang mencurigakan," tukasnya.
Fram