Dan Yonif Mekanis R 413 Kostrad Letkol Inf Bagus Setyawan Hadiri Uji Fungsi Ranpur M113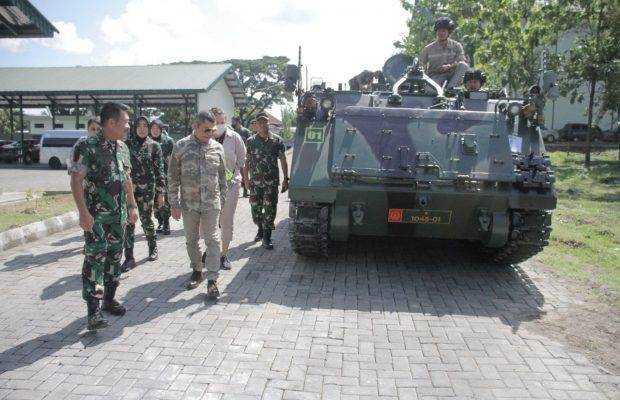 Jurnalline.com, Jakarta – Komandan Yonif (Danyonif) Mekanis Raider 413/Bremoro Letkol Inf Bagus Setyawan ikut meninjau langsung Uji Fungsi Ranpur M113 A1 BE yang telah selesai dilaksanakan perbaikan di Benglap VI/4-1 Surakarta Jawa Tengah. Kamis (1/12/2022).
Hadir dalam kegiatan tersebut adalah Kapuspalad Mayjen TNI Eko Erwanto, Danbrigif Mekanis Raider 6/TSB Kolonel Inf Andrian Siregar, S.I.P., M.Han., Pamen Ahli Puspalad, Kasubdibinran Puspalad, Kapaldam IV/Dip, Perwakilan VI/Alpal Srenad, Perwakilan IV/Slog, Danyonif Mekanis Raider 412/BES dan Pasilog Yonif Mekanis Raider 411/ Pandawa. Sedangkan Tim Penguji berjumlah sembilan orang yang dipimpin oleh Kolonel Cpl Dwi Soemartono (Kalakgiat).
Kepala Pusat Peralatan Angkatan Darat (Kapuspalad) Mayjen TNI Eko Erwanto dalam sambutanya menyampaikan, sangat mengapresiasi untuk perawatan dan perbaikan Ranpur M113 A1 BE dari PT. Indo Pulley Perkasa di Benglap VI/4-1 Surakarta.
"Perawatan ini bertujuan untuk mengecek dan memperbaiki kerusakan-kerusakan pada Ranpur M113 A1 BE yang di miliki oleh Brigif MR 6/TSB/2 Kostrad beserta Satuan jajarannya, sehingga Ranpur siap digunakan dan dioperasionalkan secara maksimal," ucap Kapuspalad.
Setelah dilaksanakan uji fungsi ini diharapkan dapat mendukung tugas pokok lebih maksimal dalam menghadapi tugas kedepan yang semakin canggih dan maju," Pungkas Kapuspalad.
Alex
Penkostrad